Eigentlich war ich mir sicher, heuer nichts neues mehr anzufangen. Mit meinen SAGA-Wikingern, meinen FOG-Römern und meinen Napoleonischen Franzosen - vielleicht einen oder zwei Gladiatoren - dachte ich, ich wäre für alle anderen Systeme, neuen Figuren und den anderen Verführungen die unser Hobby so für uns parat hat imun. Weit gefehlt. Kaum las ich im
studiotomahawk-Forum
, dass Alex Buchel, der Designer von SAGA, ein neues Regelsystem macht und Studio Tomahawk den Verkauf zur heurigen Salute startet, war es um mich geschehen.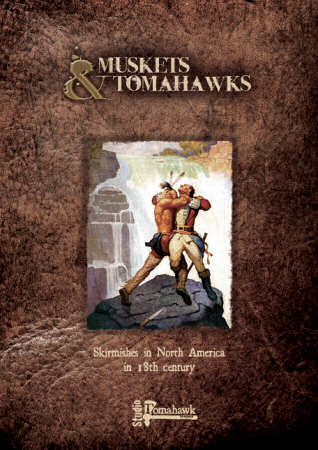 Muskets & Tomahawks - ein Regelsystem für Skirmis-Spiele innerhalb des FIW (French Indian Wars) im 18. Jahrhunderts. Lederstrumpf und der letzte Mohikaner waren in meiner Kindheit zwei meiner Lieblingsbücher. Die Chance, diese Abenteuer und mehr selbst nachzuspielen, ist einfach zu verlockend.
Ich habe mich schon mit einiger Lektüre zu dem Thema eingedeckt:
Ospreys - The French-Indian War 1754-1760 aus der Essential Histories-Reihe
(
--> Leseprobe
) und
Ospreys - Tomahawk and Musket - French and Indian Raids in the Ohio Valley 1758
(
--> Leseprobe
)
Beide Bücher gehen einen guten ersten Einblick in den Konflikt, den beteiligten Ländern, der Taktik und den Truppen, die eingesetzt werden.
Das Regelbuch habe ich in der Zwischenzeit - dank eines Freundes, der es mir direkt von der Salute mitbrachte - ebenfalls schon in meinen Händen. Es ist erfreulicherweise komplett anders als SAGA. Nicht das ich damit meine SAGA wäre schlecht, im Gegenteil. M&T ist anders aufgebaut, basiert auf einem anderen System mit Action-Karten, die man pro Runde ausspielt und somit erst sieht, welche Einheit dran ist. Auf die ersten Blicke ins Buch, wirds sicherlich spannend und herausfordernd, aber durchaus flüssig zum spielen sein.
Welche Seite?
Für welche Seite ich eine Liste aufstellen will, war mir relativ schnell klar. Die Anglo/Amerikanische Seite, die Seite, die wir alle aus Lederstrumpf und den letzten Mohikaner gut kennen, war reizvoll, reizvoller ist für mich aber im moment eher die für mich unbekannte Seite, die der Kanadier/Franzosen mit ihren Indianerverbündeten, den Huronen.
Jetzt fehlt mir nur noch, die finale Entscheidung von welchem Hersteller ich mir Figuren zulegen will. Es gibt überraschend zahlreiche Hersteller, die für diesen Konflikt Figuren bereitstellen. Da neben irreguläre Einheiten auch reguläre Truppen zum Einsatz kamen, kann man getrost auch alle Hersteller verwenden, die Miniaturen für den Siebenjährigen Krieg in ihrem Repertoire haben. Eine Liste von 28mm Herstellern, die ich bis dato gefunden habe, stelle ich in den nächsten Tagen auf den Blog. Meine derzeitige Entscheidung ist aktuell auf
Galloping Major Wargames
gefallen. Lance von Galloping Major bietet eine breite Palette an Miniaturen an und sie scheinen recht gut modelliert zu sein.